'Midnight', CONTORTIONIST STUDY.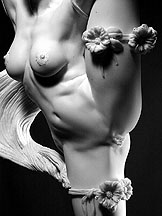 'Midnight' Contortionist Study Sculpture.
22 inches tall.
More than a simple maquette, it is a small sculpture, the intent is to make a larger version three feet tall at a later date. The top hoop represents the moon, the bottom hoop represents the sun. The flowers on the hoops are like hours on a clock.
I have done several contortionist studies, this one I feel is noteworthy. Regarding contortionism; as a sculptor (who didn't actually start out a 'sculptor', it is challenging enough working in a Hellenistic style that is highly refined, making a sculpture of a human contortionist takes that challenge one step further. It begs to be enlarged at a later date. Perhaps even life-sized one day...
*Please click on a thumbnail below, pictures will open in a separate window.