'HERMES MAQUETTE STUDY'.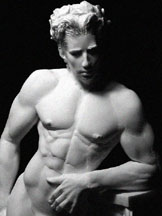 'Hermes Study'.
Gypsum cement.
10 inches tall.
This is the maquette study.
I do have a love for the 'yester year' black & white photography. It may have shown a bit with my photographing, over emphasizing the overhead snoot light.
*Please click on a thumbnail below, pictures will open in a separate window.